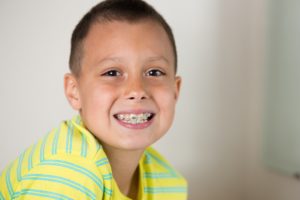 You have made the choice to invest in your child's confidence and their oral health with braces. That is great! The most common system for braces in Northampton for children and adolescents uses wires and brackets that are attached to the teeth to gradually move them into their ideal positions. This is effective for correcting even the most complex issues. While your child is on their journey to a straight smile, there will be some slight differences in their life. You can help make the transition easier by discussing the changes with them before they have their braces put on.

What to Expect
Discomfort
After their orthodontist in Northampton puts your child's braces on, it is normal for them to experience some slight discomfort. Their teeth may be a bit sore or sensitive for a few days. Often, it is best to prepare soft foods for them to eat. You can also help to manage their discomfort with over-the-counter pain relievers. Within a few days, their pain and sensitivity will subside; however, it is normal for it to reoccur when an adjustment is made to their arch wire.
Oral Hygiene
It is vital your child maintains their oral hygiene while wearing their braces; although, it will be a little more difficult. They must carefully brush and floss their teeth to remove harmful food particles and plaque that can linger around the brackets or under the wires.
It is best if they brush their teeth at least 2 to 3 times per day for 2 to 3 minutes each session. They will also need to floss their teeth and around the brackets. Traditional floss can be difficult to use, so you may want to purchase on that is specifically designed for braces.
Besides visiting their orthodontist for adjustments and checkups, they also need to see their dentist twice a year for a cleaning and checkup.
Diet
To protect their braces from damage, there are some foods your child needs to avoid, such as those that are hard, chewy, or sticky. Instead, it is best if they eat fresh fruits and vegetables that are cut in small pieces and low-fat dairy products.
Habits
Besides dietary restrictions, there are also several habits your child must avoid, such as chewing on inedible objects, sucking on their fingers or pencils, or using their teeth as tools to open packages. It is also best to wear an athletic mouthguard if they participate in sports.
Journey to a Straight Smile
Braces give your child a beautiful, confident smile that lasts. Promote a stress-free journey by explaining what they can expect during the process.
About DeMaio Orthodontics
DeMaio Orthodontics strives to make it easy to get a straight smile. We treat patients of all ages using comfortable and effective treatments that are guaranteed to deliver beautiful results. If you or your child need braces, we have the solutions you need. Contact our office today for a consultation.