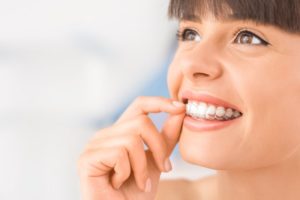 You want straighter teeth but aren't sure about your options. You know about traditional metal braces, and you've decided that's definitely not what you want, but what else can you do? Invisalign in Northampton is a great alternative for individuals like you who want to straighten their smile without the noticeable brackets and wires. But are you a good candidate for treatment? Read on to find out if this solution is right for you.

What Are Some of the Benefits of Invisalign?
We know it can be difficult walking around with teeth that aren't straight. You may want to hide from photos and avoid conversation, but sporting metal hardware on your teeth doesn't exactly make you want to join your friends for a night out on the town either. This is where the benefits of Invisalign come into play. Let's take a look at why so many people choose this method of treatment.
They're clear, which means they're hard to spot. The clear aligners are virtually unnoticeable to others, so if you don't want others to know you're receiving treatment, you're in luck with Invisalign.
The aligners are removable. Don't want to make changes to your diet while receiving treatment? With Invisalign, you just simply remove your trays before eating and/or drinking!
Free from irritation. Because your Invisalign don't have brackets or wires, you don't have to worry about any irritation to the soft tissues in your mouth.
Shorter treatment. This is dependent upon your treatment needs, but most patients can expect to be finished with their Invisalign in under 18 months.
Am I A Good Candidate for Treatment?
Now that you know about the benefits associated with Invisalign, you may be asking, "Okay, but am I a good candidate for it?" This is a valid question and one that your orthodontist in Northampton can help you answer. However, there are some ways you can determine if this method of treatment is right for you.
Teenagers
Maybe it's not you who is needing treatment, but it's your teenager. If available, your orthodontist may offer Invisalign Teen, which is suited for younger smiles. Offering multiple replacement aligners, these trays have a slightly different design with a small dot that changes from blue to clear and eventually, white. The colors represent the lifespan of the aligner and help your child to know when it's time to switch out the aligner. It will also help the orthodontist know if it's being worn properly.
Adults
Okay, maybe it is you who needs treatment. If you're considering Invisalign, you should know it requires a great deal of responsibility. Because the aligners are removable, it means making a commitment to wearing your trays at least 20-22 hours each day. It also means taking care of them with proper cleaning. You want a straighter smile in a shorter amount of time, right? You'll need to adhere to what your orthodontist tells you so that you don't delay your treatment.
Invisalign in a commitment, but it's worth it once you see the result. Talk to your orthodontist today about straightening your teeth with Invisalign braces. Before you know it, you'll be enjoying the company and conversation of your friends and family once again.
About the Practice
At DeMaio Orthodontics, we serve patients of all ages. If you or your child need orthodontic care, we will tailor the treatment so that it's comfortable, effective, and guaranteed to deliver beautiful results. If metal braces aren't what you have in mind, we can offer Invisalign as an alternative treatment option! To learn more about this service, contact us at (413) 586-0555.