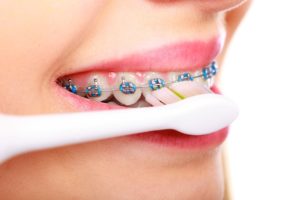 Orthodontic treatment is an investment in your child's future by giving them a healthy, confident smile. While they wear braces, there are going to be certain changes they must deal with, such as a more complicated oral hygiene routine. The brackets and wires are vital to moving their teeth into their proper positions; however, braces create a challenge when brushing and flossing. Your orthodontist in Northampton will explain how to clean their braces to keep their teeth strong and healthy during their treatment.

Importance of Cleaning Braces
Since your child's oral hygiene routine is more difficult, many children may skip brushing and flossing, but it is more important than ever they take care of their smile. Food particles, plaque, and acids collect around the braces and wires where it can be difficult to clean. If the accumulations are not removed, it can lead to tooth decay or white chalky discolored spots. Thankfully, both issues can be avoided if your child cleans their teeth well.
How to Clean Braces
While your child wears braces, their oral hygiene routine will take a bit longer, but it is time well spent to protect their smile. When caring for their teeth, there are a few important tips to make the task easier:
Brushing: Use a soft-bristled toothbrush held at a 45-degree angle to clean all surfaces of the teeth. Remove all elastics before brushing, and do not forget to clean all surfaces of the brackets and wires, too.
Flossing: Traditional floss can be difficult to use if your child has braces. As an alternative, interdental picks or waterflossers may be easier to use, but floss and a threader are often recommended. Take the time to insert the floss under the wires to carefully clean in between each tooth. Slide the floss from the crown to the gum line and back up again.
Oral Irrigators: An oral irrigator can remove buildup left behind by your toothbrush and floss. A stream of thin water flushes the teeth and orthodontic hardware to remove food, bacteria, and plaque.
Routine Dental Appointments: In addition to your child's orthodontic appointments, it is important to maintain their semi-annual visits for a cleaning and checkup. They will remove any accumulations missed at home and they can provide preventive treatments to keep their teeth healthy, like a fluoride varnish.
Protect Your Child's Smile
Do not let preventable issues impact your child's oral health while on their journey to straight teeth. Encourage the best oral hygiene habits at home give them a lasting healthy, beautiful smile.
About Dr. Aaron DeMaio
Dr. Aaron DeMaio strives to improve the oral health of his patients while enhancing their quality of life. He offers orthodontic solutions for children and adults to invest in healthy, confident smiles. If you or your child need braces, he creates the customized treatment plan you need. Contact DeMaio Orthodontics today to schedule a consultation.