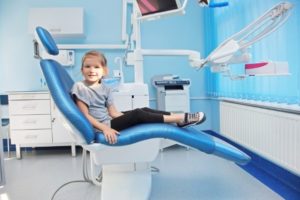 Sometimes, orthodontic issues can be apparent from a very young age, such as overcrowding or an open bite. No matter the problem, you know your orthodontist in Northampton can help, but your child still has several baby teeth. Did you know they can benefit from orthodontics even before they have all their adult teeth? In fact, it's recommended your child has a consultation before the age of 6. Although this may seem a bit young, it provides the perfect window of opportunity to correct concerns early to prevent the need for more extensive treatments later in life.

Is My Child Too Young for Orthodontics?
It's often best for your child to have an orthodontic consultation while the bones in their jaw and face are still growing. Many orthodontists prefer to see a child for the first time by the time they are 6 because that's when the first permanent molars appear, and they may have even lost a couple of baby teeth.
Often, the baby teeth fall out in a predictable order, but some children develop complications. You might think your orthodontist needs to wait until after the adult teeth erupt to see them, but this isn't true. In fact, your orthodontist can see problems beneath the surface that can harm your child's oral development long before the teeth emerge through the gum tissue.
Although all children should see their orthodontist for a consultation, there are some signs your child may need an appointment sooner. If they lose their teeth early or late, it could indicate a problem. Besides visual signs, other red flags include:
Difficulty chewing or biting.
Speech difficulties.
Mouth-breathing.
Why is Early Orthodontics Important?
The alignment of your child's teeth and bite are important for more than just an attractive smile. They are also influential for your child's growth and development. Misaligned teeth can lead to difficulty chewing, speaking, and even breathing.
Early orthodontics detects these issues to provide quick intervention. This is known as Phase 1, which focuses on guiding their dental and facial development. By doing so, it also reduces their risk of needing a lengthy treatment as they age. After all their baby teeth have been lost, it's time to improve aesthetics, known as Phase 2. If your child benefited from early orthodontics, they may not even need Phase 2.
Invest in a Functional Smile
If your child is over the age of 7 or you suspect there's a problem, don't wait to schedule a consultation with an orthodontist. Your child can get the treatment they need even if they haven't lost all their baby teeth.
About Dr. Aaron DeMaio
Dr. Aaron DeMaio strives to improve his patients' oral health and boost their confidence through personalized services. Besides his training in general dentistry, he went on to specialize in orthodontics. Supported by his exceptional training and qualifications, he has received numerous awards for scholastic and clinical excellence. If you or your child needs an orthodontist, benefit from the best. Contact our office today to schedule your consultation.