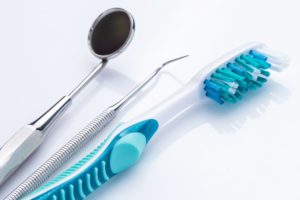 Braces are an investment in your child's future. Not only does a straight smile improve their confidence but also their oral health and quality of life. Metal braces are the go-to solution for adolescents to correct a variety of bite and alignment concerns with the help of their orthodontist. While your child is on their journey to a straight smile, their oral hygiene habits are more important than ever. Here's what you need to know when brushing and flossing with braces.

Brushing with Braces
Moving the teeth into position relies on a series of brackets and wires bonded to the teeth. It's no surprise that this is going to change things some when your child brushes their teeth. Although it may take a bit longer and be a little more challenging, it's important they brush after every meal. It's easy for food particles and bacteria to become trapped around the brackets. If they aren't removed, it can significantly increase your child's risk of tooth decay or blemishes on their teeth.
Your child will need to brush a bit differently to remove the buildup. Choose a soft-bristled toothbrush that's held at a 45-degree angle to clean all surfaces of the teeth. Start at the gum line and brush downward. Next, the toothbrush should be repositioned underneath the brackets to brush toward the gum line. Be sure your child cleans each tooth well to remove harmful plaque and bacteria.
Flossing with Braces
Although it's challenging, flossing with braces isn't impossible, but you'll need to get your child a floss threader. They can thread the floss around the wire and through their teeth to clean areas their toothbrush can't reach. They can also use soft picks to clean tight places, like around the brackets. As an alternative, some children find a water flosser to be easier than both methods. It's important they set aside time every night before bed to thoroughly clean in between their teeth.
Their orthodontist may also recommend the use of a mouthwash to kill any bacteria left behind by their toothbrush and floss. Besides their home oral hygiene habits, they will also need to see their dentist at least twice a year for a cleaning and checkup.
Invest in a Healthy Smile
The average child needs braces for about 2 years. During this time, it's important they are diligent to keep their teeth and gums healthy until their braces come off. After they finish their treatment, they will have a healthy, beautiful smile that can last for a lifetime with the right aftercare.
Dr. Aaron DeMaio
Dr. Aaron DeMaio strives to build generations of straight, beautiful smiles using the latest solutions in orthodontics. He cares for people of all ages to deliver treatments catering to each patient, including children. He provides the early intervention young smiles need to have a strong foundation for lasting dental health. If your child needs an orthodontic consultation, contact our office today to schedule an appointment.