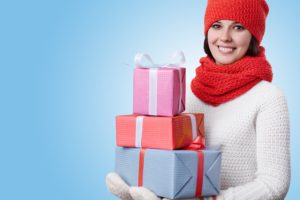 Next to the colorful decorations and carefully wrapped gift boxes, the stockings are another highlight of the holiday season. Unfortunately, if you aren't careful about what's put into your loved ones' stockings, you could place their dental health at risk. You don't have to harm their smile or cause disappointment with what's hidden inside. Your orthodontist has 5 teeth-friendly ideas for stocking stuffers.

1. Fun electric toothbrushes.
Who doesn't love the feeling of a new toothbrush? You can make everyone in your home smile with a new spin on their oral hygiene routine. Electric toothbrushes are great stuffers even your children will enjoy. Be sure to choose those that have earned the ADA's Seal of Acceptance, select those that have soft bristles. Don't forget to keep the size of your loved one's mouth in mind.
2. Sugarless sweets.
No stocking is complete without a sweet treat. Instead of your traditional candies or cookies, choose sugarless gum or lollipops. They are ideal for any sweet tooth without increasing the risk of cavities. In fact, they can even improve a person's dental health because they promote saliva production to help cleanse the teeth in between brushing and flossing.
3. Mouthguard.
A sportsguard is the perfect gift for any athlete in your home. Although they might be small, they offer an exceptional layer of protection for the teeth and gums if there's impact or injury to the face or mouth. In fact, research shows over 200,000 oral injuries are avoided annually because of athletic mouthguards. Not only can they protect your loved one's smile, but they have also shown to reduce the risk of a concussion if there's trauma to the head.
4. Flavored floss.
Believe it or not, floss is available in a variety of flavors. There are your traditional varieties, such as mint or cinnamon, but you can also find unique flavors like bacon, waffles, or even cake. A fun flavor is sure to bring a smile to anyone's face.
5. Healthy snacks.
Skip the candy, cupcakes, and cookies in the stocking this year. Instead, choose fresh fruit, nuts, and other healthy snacks.
Encourage a Healthy Smile for the Holidays!
This season, you can give the gift of a healthy smile by choosing a few different items when shopping for stocking stuffers. You can keep your family's teeth and gums healthy and give them a reason to smile by keeping their dental health in mind.
About Dr. Aaron DeMaio
Dr. Aaron DeMaio is committed to improving people's lives through healthy smiles. He provides personalized solutions for patients of all ages to create generations of healthy, beautiful smiles. Due to his advanced training and experience in dentistry, he is an active member of various organizations, such as the American Dental Association and the American Association of Orthodontists. You can rest assured your loved one's dental health is in good hands. If you need an appointment before the holiday season, don't wait. Contact our office today to schedule your next visit.