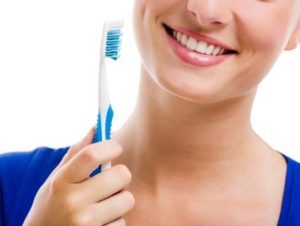 We are living in unusual times as we spend more time at home. Social distancing has left many of us stuck indoors to combat the spread of COVID-19. Although you have more time to catch up on projects around the house or spend time with your family, there's another important aspect of your life you can refocus on – your smile. There's no better time than now to recommit to your dental health. Here are 4 simple tips to help you build better oral health at home until you're able to see your orthodontist in Northampton again.

1. Step up your brushing.
Your toothbrush is the most important tool you have at home to keep your smile healthy. It removes trapped food particles and plaque to prevent common dental issues, like tooth decay and gum disease. The American Dental Association recommends you brush your teeth at least twice a day; however, this is considered a minimum. If you're only brushing in the morning and at night, start grabbing your toothbrush after lunch as well. If you can't get to your toothbrush, chew a piece of sugarless gum to help remove food and bacteria that are lingering in your mouth after your meal.
2. Floss every night before bed.
Your toothbrush is only half the care your smile needs to stay healthy because it only cleans 60% of the surfaces of your teeth. To clean areas missed by your toothbrush, you need to floss every night before going to bed. Nightly flossing significantly reduces your risk of gum disease, which is the leading cause of tooth loss. Removing the buildup between your teeth and around your gum line will protect your gum health.
3. Consider adding a mouthwash.
There are many types of mouthwashes that do more than just freshen your breath. There are several that cater to specific dental issues, like dry mouth or tooth sensitivity. Adding the right mouthwash to your oral hygiene routine can help keep odor-causing bacteria at bay while also promoting your dental health.
4. Drink plenty of water.
Water is essential for staying hydrated, but it's also important for a healthy smile. It keeps your mouth moist, which decreases the presence of harmful bacteria. Drinking water also cleanses your teeth of food particles and plaque in between brushing and flossing. It's best to always choose water over soda or juices. If you need a little sweetness, add a piece of fresh fruit for a splash of flavor.
Invest in a Healthy Smile
There's no better time than now to recommit to your dental health. You and your family can establish better habits to create healthy smiles that last.
About Dr. Aaron DeMaio
Dr. DeMaio strives to help each patient achieve their best smile through personalized treatments. After earning his dental degree and graduating with high honors, he continued his training to specialize in orthodontics. As a member of various organizations, he's a reputable choice for orthodontic care. If you or a loved one need braces, contact our office today to schedule your consultation.