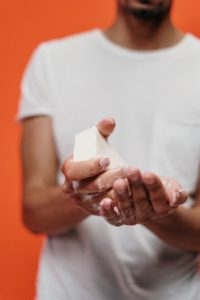 Handwashing and sanitizing are more important than ever to combat the spread of COVID-19. Besides wearing personal protective equipment and practicing social distancing, keeping your hands germ-free is equally essential. Although washing and sanitizing your hands may seem self-explanatory, simple mistakes can make your routine less effective. There's no need to put yourself or others at risk. Your orthodontist in Northampton explains how to make the most of your handwashing and sanitizing to help stop coronavirus.
Steps to Correct Handwashing
Research shows proper handwashing can help stop the spread of viral illnesses, including COVID-19. It not only lessens your risk of contracting it, but also the likeliness of you spreading it to others, especially if you're asymptomatic. There are 5 important steps to follow to ensure you're using the right technique to keep your hands clean:
Wet: Place both your hands under clean, running water.
Lather: Use a generous amount of soap to clean the inside and back of your hands, as well as your fingertips for at least 20 seconds. It's best to pay extra attention when cleaning the fingertips because they are used to touch your eyes, nose, and face, which is how the virus spreads. Don't forget to clean any jewelry.
Scrub: Rup your hands together and use your fingertips to clean your hands.
Rinse: Place both your hands under running water again to wash away the soap.
Dry: It's best to dry your hands thoroughly because harmful pathogens love moist environments. Although air dryers are effective, it's often recommended you use a disposable towel.
Besides washing your hands after using the restroom or before cooking, it's best to clean them when you return from a public outing, like going to the grocery store.
Disinfecting with Hand Sanitizer
If you can't get to a sink and soap, hand sanitizer can help prevent the spread of viruses and germs. It's best to use one that contains at least 60% alcohol. Use a generous amount of sanitizer that's placed in the palm of your hands to clean the front, back, and fingertips. Although handwashing is still the most effective way to clean your hands, sanitizer is a great option when you can't use soap and water, like when taking public transportation.
Stop the Spread of COVID-19
After your hands are clean, you should avoid touching doorknobs, toilet handles, and faucets. Instead, use a paper towel, your sleeve, or a glove to touch them. This will help prevent cross-contamination of your newly washed hands. With cleaner hands throughout the community, we can all do our part to combat coronavirus.
About Dr. Aaron DeMaio
Dr. Aaron DeMaio strives to improve each patient's health and quality of life through beautiful smiles. He regularly continues his training to provide modern services. He's recently revamped his dental safety protocols to ensure his office is the cleanest place you visit all day. Dr. DeMaio and his team are doing more than just washing their hands. If you have any questions about our safety standards, contact our office today.