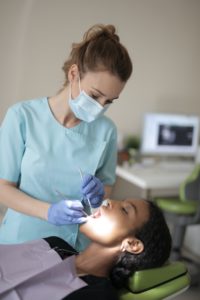 The Centers for Disease Control and Prevention (CDC) recommends wearing a face mask in public settings to help protect yourself and others from spreading COVID-19. As one of the most important pieces of personal protective equipment, masks create a barrier when in settings where social distancing isn't possible. Unfortunately, if you aren't wearing your mask correctly, you're placing yourself and others at risk. Don't let simple mistakes lead to spreading the virus. Here's what you need to know to ensure you're getting maximum protection using your mask.
Steps to Putting on a Face Mask
You might think putting on a face mask is fairly self-explanatory, but overlooking one simple step could lead to spreading germs. Here's the best way to put on a face mask:
Wash your hands with clean running water and anti-bacterial soap for at least 20 seconds before putting on your mask. If you can't get to a sink, use an alcohol-based hand sanitizer.
Examine your mask for any defects or damage, like a broken loop.
Place the colored side of the mask facing outward.
If the mask features a metallic strip at the top, position it against the bridge of your nose.
Depending on the type of mask you're using:
Ear Loops: Place one loop over each ear.
Ties: Hold the mask by the upper strings and tie them securely near the crown of your head. Tie the bottom strings near the nape of your neck.
Dual Elastic Bands: Pull the upper band over your head and place it against the crown of your head. Pull the bottom band down near the nape of your neck.
Press the metallic strip to fit your nose.
Pull the mask to fit over your mouth and chin while remaining on your nose.
Make sure the mask fits snuggly.
Don't touch your mask after you've positioned it correctly.
Dos and Don'ts of Wearing a Face Mask
Besides wearing your mask correctly, there are a few tips to keep in mind to reduce the risk of cross-contamination.
DO replace your mask if it becomes damp or soiled.
DON'T touch your mask once it's in position.
DON'T dangle your mask from one ear or hang it around your neck.
DO wash your hands thoroughly before removing your mask.
DON'T reuse single-use masks.
DO hold the mask by the loops or ties when discarding it.
DO dispose of your mask properly in a covered wastebasket.
DO wash your hands again after you've removed your mask.
Stop the Spread of COVID-19
Although a face mask might be small, it may be crucial to stopping the spread of COVID-19. If you can't practice social distancing, be sure to protect yourself and others by wearing a face mask.
About Dr. Aaron DeMaio
Dr. Aaron DeMaio is an award-winning orthodontist in the community who strives to create generations of healthy, beautiful smiles. Patient safety is a top priority amid the COVID-19 pandemic, which is why he's updated his office protocols to create a germ-free environment. You can feel at ease knowing his office is the cleanest place you'll visit all day. Contact our office for an appointment.