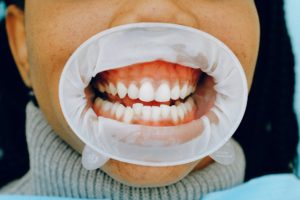 We all know our bodies change as time passes. Besides a few gray hairs and maybe some wrinkles, you might also notice subtle differences with the positioning of your teeth. Although minor shifting may not seem concerning, it could be a sign of an underlying issue. It's best to visit your orthodontist to find out why your teeth are moving, and what can be done to stop it. Often, your orthodontist can move your teeth back into position with braces or clear aligners.
Why are My Teeth Shifting?
The alignment of your teeth is important for more than just a beautiful smile. They ensure you're able to perform simple oral functions with ease, like biting and chewing. Overall, your oral health relies on their positioning to ensure your smile functions its best. Unfortunately, overtime your teeth might move out of place, which can be the result of several issues, such as:
Age
Jaw Movement
Osteo Changes
Tooth Grinding
Tooth Loss
Gum Disease
Tongue Thrust
Dental Procedures
Orthodontic Procedures
How Can I Fix My Shifting Teeth?
If you notice your teeth moving from position, it's best to see your orthodontist in Northampton to determine the cause. After any underlying issue has been resolved, they can create a customized plan to move your teeth back into place. Now, you have more options that ever to align your teeth, including:
Metal Braces
Traditional metal braces can treat even the most complex alignment issues using a series of brackets and wires affixed to the teeth. Gradual adjustments to the wire move the teeth into position in an average of 12-24 months.
If you're worried about the appearance of brackets and wires, there are many discreet solutions available, such as clear or ceramic braces. The brackets and arch wire are customized to match your enamel to blend in with your teeth, so they don't stand out when you smile.
Invisalign
As an alternative to metal braces, many adults prefer Invisalign. A series of clear aligners are worn over your teeth to gradually move them into position over the course of 12-18 months. This provides a virtually invisible treatment that's less restrictive because the aligners aren't attached to the teeth; however, you'll need to commit to wearing them for at least 22 hours per day.
Protecting Your Investment
After completing orthodontic treatment, you don't want your teeth to shift out of position again. As a result, you'll want to follow your orthodontist's advice and wear your retainer correctly. Nowadays, there are several options for retainers, several of which as discreet.
If you're ready to turn back the clock and achieve a straight smile, your orthodontist will create the personalized treatment plan you need to move your teeth.
About Dr. Aaron DeMaio
Dr. Aaron DeMaio strives to create generations of healthy, beautiful smiles. He completed his orthodontic training at the Tufts-New England Medical Center in Boston. Dr. DeMaio provides the latest solutions to help patients of all ages achieve their best smiles. If your teeth are shifting, contact our office today for an appointment.