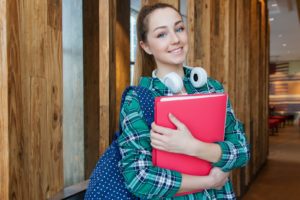 Believe it or not, the new school year is right around the corner. After enjoying many days in the pool and soaking up the sun, your teen is about to head back to the classroom. You ensure they have everything they need, but there's one major difference this year. You've invested in your teen's future with Invisalign, which means they must maintain their treatment while at school. Their orthodontist in Greenfield has a few tips to avoid any unexpected complications during the year ahead.
1. Stick to the Treatment Plan
When home for the summer, it's easy to monitor your teen to ensure they are wearing their aligners for at least 22 hours daily and switching to a new one on time. Unfortunately, when they are at school, they won't be under your watchful eye. Take the time to explain the importance of following their treatment plan, even while away from home.
2. Choose Nourishing Foods
After switching to a new aligner, your teen may have some discomfort when chewing. You can help them stay focused on learning by packing softer foods in their lunch. Include a variety of healthy options that are easy to chew, like low-fat cheese, yogurt, or hardboiled eggs. It's best to avoid anything sticky because they can cling to the teeth and get trapped between their enamel and aligners.
3. Practice Good Oral Hygiene
Your teen must step up their oral hygiene routine to avoid any preventable complications while on their journey to a straight smile. They will even need to brush and floss while at school. Besides pens, pencils, and paper, add a travel oral hygiene kit to their back-to-school supply list. Purchase travel-sized toothbrushes and toothpaste to use throughout the year. You can check to see if your child is sticking to their oral hygiene by monitoring how much toothpaste is left in the tube at the end of the week.
4. Combat Dry Mouth
It's not uncommon for Invisalign Teen to cause dry mouth, which can lead to bad breath. Your teen doesn't need to be embarrassed if they drink plenty of water throughout the day. Water will keep them hydrated while maintaining moisture in their mouth to combat odor-causing bacteria.
5. Keep Aligners Safe
Your teen will need to remove their aligners for snacks and lunch. If they place them on their lunch tray, it's easy for them to accidentally toss them in the trash. You also don't want them placed on a dirty table. Make sure they pack their storage case to keep their aligners safe.
Keep your teen's smile a priority during the year ahead. Invisalign is the convenient, discreet solution they need to achieve a confident smile.
About Dr. Sonam Sheth
Dr. Sheth earned her dental degree at the University of Connecticut School of Dental Medicine and continued her training in oral biology and pathology. She is also certified in orthodontics and dentofacial orthopedics. If your teen is interested in Invisalign, contact our office today to schedule a consultation.