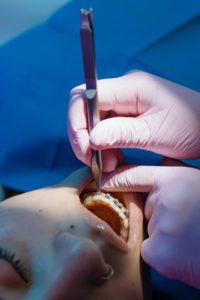 Traditional metal braces have been used for generations to resolve even the most complex bite and alignment issues. Although they often get a bad rap, the system of brackets and wires is quite interesting. Here are 6 fun facts about braces that might change the way you view them.
1. Braces have been around for centuries.
The first written record of a man attempting to correct crowded teeth is from about 3,000 years ago. Over the years, several crude orthodontic appliances emerged, including discoveries of early Egyptian mummies using metal bands wrapped around individual teeth. It wasn't until 23-79 AD that mechanical devices appeared. Modern braces didn't come into the picture until about 300 years ago, which used a horseshoe-shaped iron to widen the palate. Thankfully, braces have come a long way over the decades to provide effective, comfortable, and discreet solutions.
2. NASA helped develop modern braces.
Metal braces are often made of an alloy that was originally developed by NASA to be used on space shuttles. It's heat resistant to launch astronauts to space, but it also maintains its shape well, and it's flexible. This has made braces more comfortable than ever without compromising the results.
3. NASA didn't stop at metal braces.
NASA's role in orthodontics didn't end with alloy. They also crafted transparent polycrystalline alumina. While it was initially made to better track missiles, it is also ideal for invisible braces. The smooth, round properties are stronger than steel. The aligners eliminate any irritation to the soft tissue on the inside of the mouth that's typically caused by braces.
4. Every orthodontist is also a dentist.
An orthodontist must earn their dental degree before continuing their training in a 2–3-year postgraduate orthodontic program. The American Association of Orthodontists reports only 6% of dentists are also orthodontists.
5. Braces aren't just for children.
The American Association of Orthodontists found over 4 million Americans have braces. Although they are thought to be for children and teens, 1 in 5 orthodontic patients is over the age of 18. That's about 1 million people! If you're not happy with your smile, you're never too old to invest in braces.
6. Braces don't set off metal detectors.
Contrary to common assumptions, braces are not magnetic, so they won't trigger metal detectors. They also won't pick up radio transmissions. You don't need to worry when a storm strikes because they make you no more likely to be struck by lightning than a person wearing clear aligners.
You can achieve a picture-perfect smile using a tried-and-proven solution. Take your first step toward a straight smile by scheduling your consultation for braces.
About Dr. Aaron DeMaio
Dr. DeMaio earned his dental degree from the University of Connecticut School of Dental Medicine. After providing family and cosmetic dentistry, he pursued his training in orthodontics at the Tufts-New England Medical Center of Boston. He strives to create generations to healthy, confident smiles. If you or a loved one need braces, contact our office today to schedule your consultation.