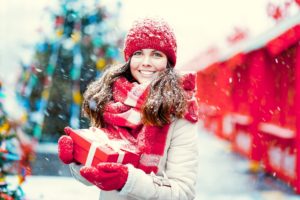 Straight teeth are within your reach because you've invested in Invisalign. The discreet, convenient solution will give you a reason to smile during the holidays; however, you'll want to keep a few things in mind. Don't let simple mistakes delay your journey to a straight smile. Here are the tips you need to enjoy the holidays with clear aligners.
1. Wear your aligners for 22 hours per day.
It's easy to forget to wear your aligners during the holidays, especially if you enjoy snacking. Taking your aligners out for a quick bite can be a hassle, so you might wait to put them back in your mouth. Not to mention, there are many special events during the holidays. Although your aligners are discreet, you may want to take them out for the evening.
Straying from your plan for even a few weeks can add time-costing delays to your treatment. You can also increase the potential for pain during the straightening process. Consider setting an alarm on your cellphone to ensure you are wearing your aligners enough.
2. Remove your aligners when eating and drinking.
Teens and adults prefer Invisalign because there aren't any dietary restrictions. The aligners are removable, so you can enjoy many of your favorite seasonal dishes. As you indulge in delicious meals and savor tasty treats, don't forget to remove your aligners.
You should never have anything except water while wearing them to avoid damage and prevent your aligners from losing their transparent appeal. Be sure to keep your aligners in their storage case when they aren't in your mouth.
3. Don't forget to brush and floss.
Life can get hectic during the holidays, but you don't want to deviate from your oral hygiene routine. A clean smile is more important than ever because you'll likely snack frequently. You don't want food particles and cavity-causing bacteria trapped between your enamel and aligners.
Your orthodontist recommends brushing your teeth after every meal. If you can't get to your toothbrush, rinse your mouth with water before putting your aligners back in. Don't forget to rinse the aligners, too.
4. Change your aligners on time.
Every treatment plan is unique, but most patients switch to a new aligner every 1-2 weeks. The holidays can be busy, so it's easy to lose track of time. Maybe you're traveling for the holidays and don't want to bring extra aligners? Whether time is slipping by or you're heading out of town, change your aligners on time. Switching aligners too soon or late can add weeks to your treatment plan.
As you gather with friends and loved ones, you have one more reason to smile for the holidays. Show your smile the appreciation it deserves by caring for your Invisalign daily.
About Dr. Sonam Sheth
Dr. Sheth earned her dental degree from the University of Connecticut School of Dental Medicine before continuing her training in oral biology and pathology. She also has advanced certifications in orthodontics and dentofacial orthopedics. If you're interested in improving your smile, contact our office today to schedule a consultation.