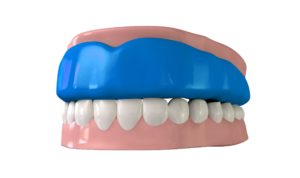 Playing sports is a great way to stay fit and healthy. You don't want to give up your favorite pastime to achieve a straight smile. Contrary to common misconceptions, you don't have to stop playing sports while undergoing orthodontic treatment. Whether choosing metal braces or Invisalign, you can still play football, snowboard, or hit a few balls at the batting cages; however, your orthodontist will recommend a few tips to avoid damaging your investment.
Risks of Playing Sports with Braces
Between 13-39% of all dental injuries are sports-related. Although they can take many forms, 80% of injuries affect at least one front tooth. Not to mention, soft tissue damage and jaw injuries can also occur. The severity of your wounds can be more complex if you're wearing braces or Invisalign because they can break. You can experience punctures and lacerations from broken wires, brackets, or aligners. Besides the pain and cost of any dental damage, you'll also have to have your braces fixed.
An athletic mouthguard is the best way to protect your teeth from injuries; however, it can be difficult to fit them over brackets and wires. If you chose Invisalign to straighten your smile, your aligners aren't enough to protect your smile, so you'll still need a mouthguard. Don't run to the local convenience store to purchase one because it won't offer the protection you need. Instead, it's better to see your orthodontist for a custom-fit appliance to protect your braces and smile.
Athletic Mouthguards for Braces
A mouthguard is an oral appliance made of flexible, durable material. Your orthodontist will take an impression of your mouth to create an appliance that fits comfortably over your teeth and braces. It will absorb the force of any trauma to your mouth to prevent damaging your orthodontic investment. The mouthguard will also protect your teeth, soft tissues, and jaw to lessen the severity of injuries. Research shows a mouthguard can even lower the risk of concussions.
Your orthodontist will ensure your mouthguard fits over your upper teeth, using your braces to guide it into position.
Even with the best protection, oral injuries and broken braces can occur. If you experience an oral emergency, contact your orthodontist right away for an appointment.
Safeguard Your Smile Today
Whether for a teen or adult, a custom-made athletic mouthguard is the best solution to safeguard your smile and braces when playing sports. You wouldn't head out onto the football field without a helmet, so don't leave your smile unprotected.
About Dr. Aaron DeMaio
Dr. DeMaio earned his dental degree from the University of Connecticut School of Dental Medicine and continued his training at the Tufts-New England Medical Center, specializing in orthodontics. He is a member of various professional organizations, including the American Association of Orthodontists. If you need an athletic mouthguard or you're ready to straighten your teeth, contact our office today to schedule an appointment.