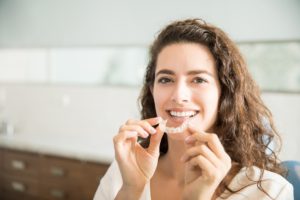 Invisalign in Greenfield is a popular alternative to metal braces. Clear aligners offer unmatched advantages, like their transparent appearance, and they aren't bonded to your teeth. You won't have to brush and floss around brackets and wires or worry about skipping your favorite snacks because your aligners will be removable. Although you can take them out anytime you want, you must commit to wearing them for at least 22 hours daily. When you want to pop them out to eat or brush your teeth, here are 5 tips to remove your aligners with ease.
1.Remove from the back.
Each aligner is created with precision to fit over your teeth like a glove. Although you don't have to worry about your aligners slipping or falling out, they can be tricky to remove – at first. They are easier to remove if you start in the back. Place a fingertip inside of your mouth near a back molar and pull the aligner up. Repeat this on the other side and continue to slide your finger to the front until the aligner is fully off your teeth.
2. Don't have a cold drink.
Your aligners will be made of a flexible material, which means they can lose some elasticity when exposed to cold temperatures. Therefore, they can be a little more difficult to take out if you have a cold drink right before removing them. That doesn't mean you want to drink something hot, either. Heat can warp your aligners. Instead, remove them when your mouth is at room temperature.
3, Get a better grip.
Typically, dry mouth isn't good for your oral health, but you will get a better grip on your aligners if they aren't slippery. Hold your mouth open for a few seconds to let it dry out before popping your aligners out.
4. Keep your nails short.
Long nails make it more challenging to remove Invisalign. Not to mention, you can accidentally injure your gums. It's best to keep your nails short to take your aligners out safely.
5. Practice makes perfect.
It will take a few days to get the trick of removing clear aligners. With a little practice and the mentioned Invisalign tips, you'll be able to pop your aligners in and out like a pro in no time.
Don't forget to brush your teeth and rinse your aligners anytime you remove them. Store them in their storage case to prevent losing them when you aren't wearing them, just remember to put them back in. You must wear your aligners as much as possible to avoid any delays in your journey to a complete smile.
About Dr. Sonam Sheth
Dr. Sheth has earned her Doctor of Dental Medicine, Masters of Science in Oral Biology and Pathology, and an Advanced Certificate in Orthodontics and Dentofacial Orthopedics. She is also a certified Invisalign provider. Dr. Sheth has the training and qualifications you can trust to improve your bite and alignment concerns. Contact our office today to request an appointment for clear aligners.