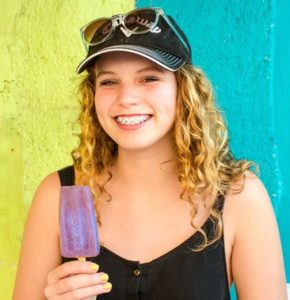 Braces have been used for generations to create straight, healthy smiles. Children and adults can benefit from the brackets and wires system to resolve even the most complex bite and alignment issues. However, you're going to have to watch what you eat. Certain foods can damage your braces or increase your risk of complications. You don't want to lose a day of summer sitting in a dental chair because you ate the wrong food. You don't have to skip your summer favorites. Your orthodontist has the worst and best foods to eat with braces.
3 Summer Foods to Avoid
Braces are affixed to your teeth and made of durable materials, but that doesn't mean they are indestructible. Eating the wrong food can cause a bracket to pop off or break a wire. Some foods can even get stuck between your teeth or braces. You can avoid an orthodontic emergency by skipping a few common summer foods:
1. Hard Fruits and Vegetables
Whether at a barbeque, pool party, or picnic, fresh fruits and vegetables are healthy snacks. However, if they are hard, they can break a wire or bracket, like apples, corn on the cob, or carrots.
2. Crunchy Grains
Your body relies on grains to stay healthy, but bagels and other crunchy bread aren't the best options. Your orthodontist will also advise against any grains containing seeds or nuts, which can get trapped in hard-to-clean areas.
3. Meat on the Bone
Eating meat off a bone can damage your braces. If you can't avoid juicy ribs, BBQ chicken, or other grilled dishes, cut the meat off the bone to prevent any complications in your treatment plan.
3 Summer Foods to Enjoy
It may seem like there are many food restrictions while wearing braces, but you can still have many summertime favorites, including:
1. Cool Treats
Smoothies, yogurt, and other soft treats are a great way to stay cool without harming your smile. You can even indulge in an ice cream sundae, but leave off the nuts.
2. Fruit Salads
Cut fruit into small pieces, so you don't have to bite into them. Toss them in a container and take them with you as you soak up the sunshine and warmer weather.
3. BBQ Side Dishes
Although you can't have meat on the bone, you can savor many amazing BBQ side dishes, like macaroni and cheese, baked beans, or mashed potatoes.
Protect Your Smile
Besides watching what you eat, don't forget to brush and floss after every meal to keep your teeth and gums healthy. Maintain your regular appointments for adjustments and check-ins to ensure nothing delays your journey to a stunning smile.
About Dr. Aaron DeMaio
Dr. DeMaio is committed to creating beautiful smiles. After earning his dental degree from the University of Connecticut School of Dental Medicine, he continued his training in orthodontics. He has received various awards for his excellence in orthodontics. Dr. DeMaio has the solutions you need for a straight smile. Contact our office today to request a consultation.